Inter-Faculty Agreements
The Faculty of Social Sciences also offer exchange study stays for incoming international students based on inter-faculty agreements with several partner universities. 
The students interested in the exchange study stays shall contact the International Office of their home university as the application must be submitted by the partner university coordinators. 
Once the applications are evaluated, the accepted students will be informed together with their home university coordinator, and the acceptance letter, housing documents, and other information will be sent to the student's email/postal address.
| | | |
| --- | --- | --- |
| 2022/2023 | Nomination deadline | Application deadline |
| Winter Semester | 15.04.2022 | 30.04.2022 |
| Summer Semester | 30.09.2022 | 15.10.2022 |
| | | |
| --- | --- | --- |
| 2023/2024 | Nomination term  | Application term |
| Winter Semester | 01.03. - 15.04.2023 | 01.03. - 30.04.2023 |
| Summer Semester | 01.09. - 30.09.2023 | 01.09. - 15.10.2023 |
Why Study Abroad at FSV UK?
See here What Your Student Life Can Be Like at FSV UK.
PARTNER UNIVERSITIES
For the Academic Year 2022/23 applications will not be accepted from the following partner universities.
APPLICATION PROCESS
Students interested in the exchange study stay must be nominated by their home university. 
The application consists of:
CV
Motivation Letter
Study Plan (a preliminary selection of courses a student wish to attend at the Faculty of Social Sciences)
Transcript of Records
Letter of Recommendation
Copy of the passport
Confirmation of English language knowledge (minimum B2), not needed if a native speaker of English
The student should sign the application form as well as the home university coordinator who will be sending the scan copies of the documents to the contact person at the International Office of the Faculty of Social Sciences. 
Students shall also fill in an electronic Application Form accessed from here.
How to create a Study Plan
The course search catalog can be accessed from here.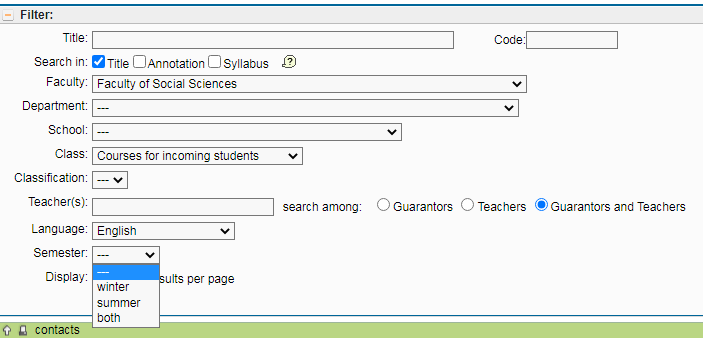 The recommended modification of the search is as follows:
Academic year: on the top menu - adjust via Setup
Faculty: Faculty of Social Sciences
Semester: winter term (September - February), summer term (February - June) or both
Language: English
To modify further by the Institutes of the Faculty - option School (not Departments): 1. Institute of Sociological Studies, 2. Institute of Economic Studies, 3. Institute of Political Studies, 4. Institute of International Studies, 5. Institute of Communication and Journalism
It is also possible to search for courses at the other faculties of Charles University. Students are advised to enrol in courses in total of 30 ECTS (no more).
Contact
For more information contact Ms Marie Stanovská, email: studyabroad@fsv.cuni.cz