BILATERAL INTERNATIONAL TREATIES
BILATERAL INTERNATIONAL TREATIES
Charles University supports student mobility on the basis of international treaties, i.e. treaties signed by the Czech Republic with a number of countries worldwide.
The treaties offer the possibility for students or graduates and Ph.D. candidates (exceptionally for academic staff members) from public universities of the countries concerned to undertake study periods at higher education institutions (HEIs) in the Czech Republic. 
APPLICATION PROCESS
Once you choose Charles University, Faculty of Social Sciences, as your exchange programme destination, please follow the steps below:
1) First of all, check on the list here if your country has got a bilateral agreement with the Czech Republic. 
2) As part of your application, you will need a preliminary acceptance letter from us. Although it is not usually listed among obligatory attachments to the application form, the submission of the preliminary acceptance letter is recommended, since it can simplify and expedite the admission procedure. 
Please contact the International Office (inbound@fsv.cuni.cz) and ask for a preliminary acceptance letter. Attach to your request the following documents, on the basis of which your acceptance will be evaulated:
CV
Motivation Letter
Your preliminary study plan (institute and subjects)
The transcript of records of your achieved education
Certificate of your English level (not compulsory, but recommended)
Academic staff members are required to attach a letter of invitation to their applications.
3) Nominations and application dossiers must be submitted to the MEYS by the appropriate authorities in the eligible countries. Applications sent directly to the Czech MEYS by individual applicants will not be processed.
Information about requested documents and deadlines are available on the MEYS webside.
HOW TO CREATE A STUDY PLAN
The course search catalog can be accessed from here.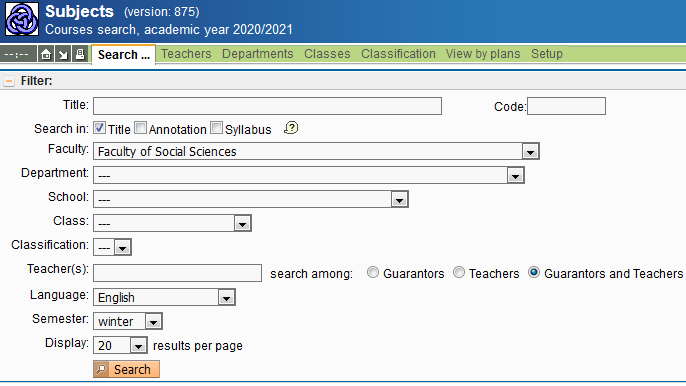 The recommended modification of the search is as follows: 
Academic year: on the top menu - adjust via Setup
Faculty: Faculty of Social Sciences
Class: Courses for incoming students
Semester: winter term (September - February), summer term (February - June) or both
Language: English
Then you will get the list of all available courses as per your research. Choose the courses you would like to enroll in (there is not a mandatory number of courses you sholud attend - but we recommend 3 to 6 courses per semester) and send us your study plan with the course list.
CONTACT
For more information contact our Exchange coordinator Ms Antonella Kopic Bernardon, email: inbound@fsv.cuni.cz