4EU+ European university alliance
4EU+ European university alliance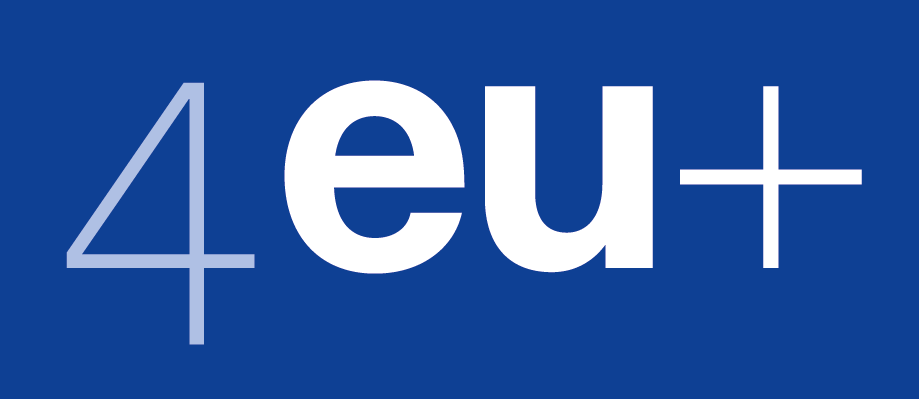 4EU+ alliance unites seven prestigious European universities: Charles university, Heidelberg Universität, Sorbonne Université, Uniwersytet Warszawski, Università degli Studi di Milano, Københavns Universitet and University of Geneve. As of 01/07/2023, the 4EU+ Alliance has grown with another member, which is the French Paris-Panthéon-Assas University. Paris-Panthéon-Assas joined the alliance as a complementary university to the already original member, Sorbonne University, and offers cooperation in the fields of law, political science, economics, management, information studies and journalism.
Strategic cooperation of the member institutions began in 2017; formally the alliance was established in March 2018 as general partnership for new quality development in research, innovations, education and services. Likewise, one of its aim was to create suitable platform to facilitate student, academic and administrative mobilities and to share infrastructures. In 2019 the Alliance clinched funding in European universities call. 
Virtual courses of 4EU+ universities open
We would like to draw your attention to the offer of 4EU+ shared courses for UK students, which take place in the form of virtual mobility.
These courses cover a wide range of topics, allowing students to discover new perspectives and collaborate with students from partner institutions.
Here is an overview of several courses available for registration:
Courses at the University of Milan:
Courses in Science and Technology, Law, Political Science, and the Humanities: Anglophone Cultures I
Registration deadline: September 20 and 27
Courses in the field of medicine, agricultural and food sciences, language and cultural mediation: Clinical Practice 6th Year - Lifestyle, exercise and sport medicine, Bioresources for Innovation in Mountain Products
Registration deadline: September 20 and 27
Courses at Heidelberg University:
Registration deadline: September 30
Courses: Collegio futuro: a college for designers of a sustainable European future, International Environmental Law, "Human or Not? The Age of A.I." – Interpreters' Monday's conference and more
Courses at the University of Warsaw:
Registration deadline: October 8
Courses: Algorithms in digital economy, International healthcare systems, Social and sustainable entrepreneurship and others.
Detailed information and instructions for registration can be found on the 4EU+ Student Portal.
Call for PhD programme Collegio Futuro
We would like to draw your attention to the current call for applications of "Collegio Futuro", a joint interdisciplinary college for doctoral candidates within 4EU+.
The aim of Collegio Futuro is to develop scientifically founded approaches to solving urgent ecological and societal issues. Eligible to apply are doctoral candidates of all disciplines from five 4EU+ universities: Charles University, Heidelberg University, Sorbonne University, University of Milan, and University of Warsaw. The closing date for applications is 5 July 2023.
Collegio futuro is a program of universities associated in 4EU+, aimed at PhD students. He is now announcing the next year of the course for PhD students. Its goal is to teach students interdisciplinary, international cooperation in the field of sustainability and to support the ability to communicate their results outside the academic community, especially towards political representations and the decision-making sphere.
The goal of the course is to teach course participants to cooperate with doctoral students from other fields (natural sciences, medicine, social sciences, humanities) and nationalities and to prepare a policy brief on the given topic. The course includes a one-week joint concentration in Germany and subsequent online collaboration within working groups.
From October, the course will be held in SIS as a doctoral course with a capacity of 5 places, interested parties must apply before registration according to the instructions in the leaflet.
Instructions are in the attachment. You can find the application form here.
We're sharing with you an announcement of the call that we published in the Heidelberg University newsroom: www.uni-heidelberg.de/en/newsroom/collegio-futuro-call-for-applications-from-doctoral-candidates
On behalf of our local representatives from Flagship 4, we're also sharing the link to the relevant information on the 4EU+ website: 4euplus.eu/4EU-552.html
Collecting courses for virtual mobility in WS 23/24
We would like to inform you that another call of the UK POVIM virtual mobility support fund has been announced for the collection of VM courses for the winter semester 2023/2024.
In this call, the division of courses for virtual mobility into three categories is maintained:
1) 4EU+ Joint Courses (category 1) – courses created within the framework of 4EU+ alliance cooperation, e.g. edu projects, which can be offered to all students of the 4EU+ Alliance - POVIM support cannot be applied for;
2) 4EU+ Shared Courses (category 2) – courses meeting the conditions of 4EU+, belonging to the flagship, fulfilling key competences, offered to all students of the 4EU+ Alliance - POVIM support can be applied for;
3) Open Courses (category 3) – courses open outside the 4EU+ Alliance, i.e. they do not have to meet the condition of belonging to flagships and fulfilling key competences, will be offered to students of all partner universities. - you can apply for POVIM support.
More details about the categories here.
All courses are collected by entering the VM course directly into SIS, namely by choosing the Virtual Mobility category until July 15, 2023.
The conditions listed here apply to the collection of category 1 and 2 courses within 4EU+. All required course information must be published in SIS by 15 July 2023.
Category 3 courses can be published and offered at any time during the year, but if you want to apply for POVIM support with them, they must be entered in SIS with complete syllabi by 15 July 2023.
Applications for support, legibly completed and signed by the person to whom the support is to be intended, should be sent on the prescribed form to e-mail: svoz@fsv.cuni.cz no later than July 12, 2023.
Applications that are submitted after 12/07/2023 or that do not contain all the required details will be automatically excluded from the selection process, as will applications for courses that are not entered in SIS with complete syllabi by 15/07/2023.
You can find more information on supporting virtual mobility and the POVIM fund on the UK website.
Offers archive
Here you can find former offers of the 4EU+ activities.