CONGRATULATIONS ON YOUR ACCEPTANCE!
Now that you have joined our community of students, let us walk you through what happens next. What should you do and when? What to expect from us?
If you have any questions about these steps, contact us at admissions@fsv.cuni.cz or degreeprograms@fsv.cuni.cz.
Want to make sure you haven't forgotten anything important? Download our Checklist and check all the boxes!
STEP BY STEP GUIDE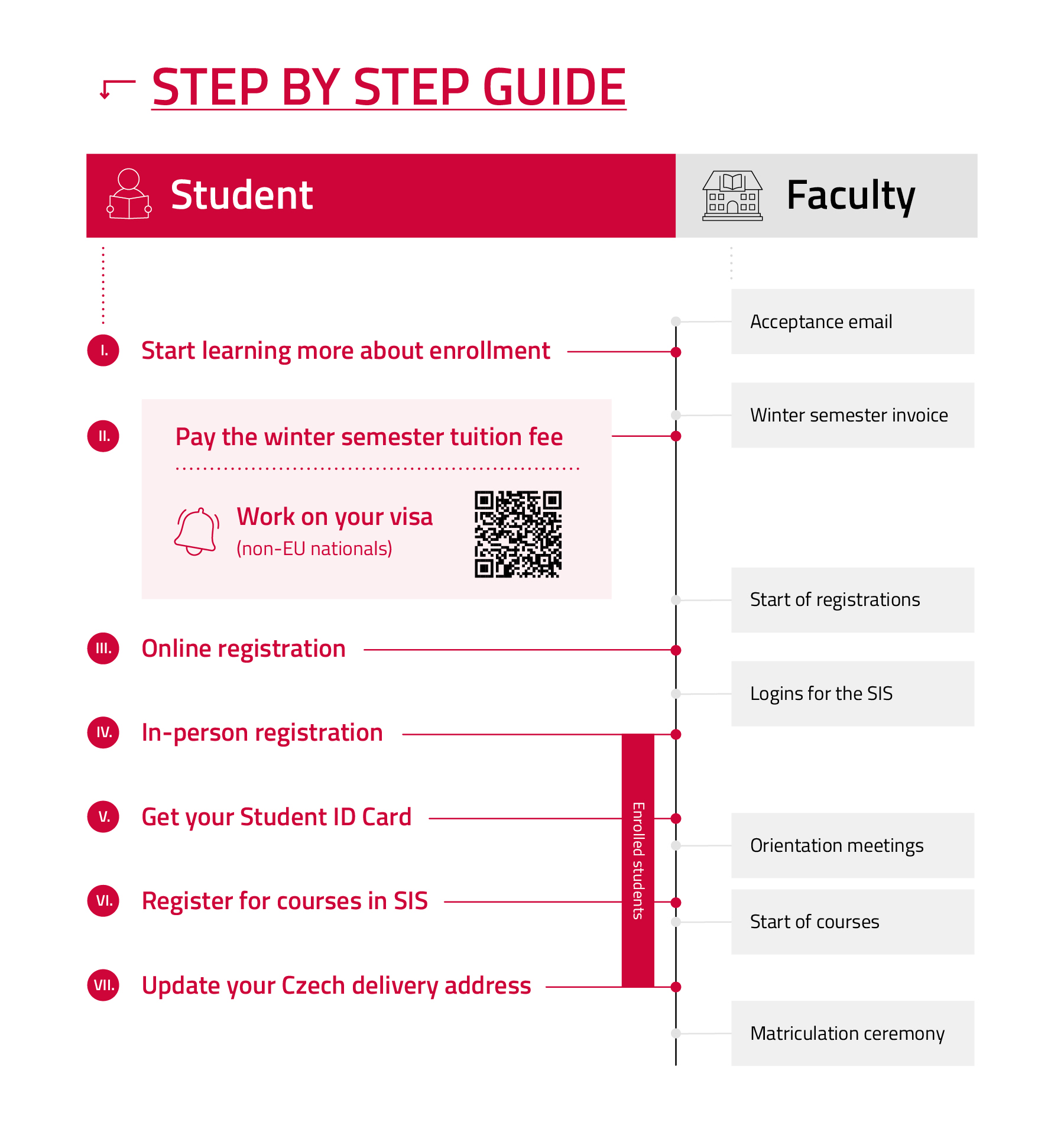 STEP 1: START LEARNING ABOUT WHAT'S NEXT
You will receive an email from us with more information about what's to come. Beyond that, we also encourage you to start exploring our resources.
Learn about the proces of enrollment, about the Faculty of Social Sciences, the study regulations, and more!
Start with our Introductory presentation. Our First Years Guidepost can also help!
Do you have any questions that our resources don't answer? Contact us at degreeprograms@fsv.cuni.cz.
If you are a VISA-SEEKING STUDENT, you should start working on your visa as soon as you can in order to receive it in time. You can find more on the visa process here
STEP 2: PAY THE WINTER SEMESTER TUITION FEE
Once you receive the first invoice from us (it should arrive shortly after your acceptance), make sure to pay the winter semester tuition fee in advance.
If you need any help or modifications, please email eva.kapucianova@fsv.cuni.cz.
By paying the tuition, you ensure your spot in the next academic year. 
Relax, enjoy your summer and start looking forward to your life in Prague! 
STEP 3: THE ENROLLMENT PROCESS
The enrollment process starts in September and includes the following steps.
The exact order of these steps may differ depending on your arrival in Prague - e.g. you may get your ID card before you come in for your in-person registration, or you may attend your orientation meeting after you have signed up for winter semester courses. It's fine if they don't happen in this specific order; however, you need to complete all of them in order to enroll properly!
Please note that once you complete your registration, you will be considered an enrolled student and will be required to pay your tuition. 
The step by step guide for registration is described here - you can read up on it when September comes!
1) ONLINE REGISTRATION
You will fill out an enrollment form and submit it along with the registration request. Within a day or two after your online registration is approved, you will receive the logins for our SIS system. This is a very important system you will later need to sign up for courses, exams, etc.
2) IN-PERSON REGISTRATION
Once you arrive to Prague, please come by the International Office to complete your registration. Bring your diploma and transcript of records with you. Here, we will check  your previous education documents, give you the Decision on the tuition fee and explain how to get the Student ID Card.
Note: If you already know you will not arrive to Prague before October due to visa issues, make sure to send us your documents via mail. You will get them back at the registration.
3) ORIENTATION MEETINGS
During the latter half of September, the orientation meetings will take place. You will be able to find the dates and times here at the end of the page. The data will be announced in September.
STEP 4: REGISTER FOR COURSES IN SIS
Please make sure that you have completed your online registration by now! You will not be able to log in to SIS otherwise!
At the end of September, registration for courses will open for all our students.
You will be able to sign up for the core mandatory courses of your programs and later on, your electives.
Your program coordinators and supervisors will give you more information on your study plans during the programs' orientation meetings.
You can find a manual on how to register for your courses on here under "Subjects and Schedule". 
Have you missed the deadline for registering for courses? You can request adding or deleting a course within the first six weeks of the semester through this form (download under "Changes in Enrollment in SIS")
STEP 5: UPDATE YOUR CZECH DELIVERY ADDRESS
Make sure that once you are settled at your accommodation, you update your Czech delivery address either in the SIS system or via our Google form link.
MATRICULATION CEREMONY
Finally, during October, a Matriculation ceremony to welcome all of you to the Faculty will take place. This is a tradition spanning hundreds of years to the very founding of the university. More on this ceremony can be found here.
Follow us on social media
Meet me in Prague