EU AND EFTA NATIONALS
If you are a citizen of an EU or an EFTA country (+ Norway, Switzerland, Iceland and Liechtenstein) you do not need to apply for a visa. It is enough for you to register with the Czech Immigration Police within 30 days of your arrival (this is a legal requirement).
You are also entitled (but not obliged) to apply for a Temporary Residence Permit (a card stating your address in Czechia). We do not recommend this to students who spend less then two semesters in Czechia.
For further information, please see the Ministry of the Interior offices website.
NON-EU NATIONALS
Please note that these are general information that may vary depending on your country of citizenship. Always make sure to check what applies to you.
The responsibility for obtaining the visa is up to each student. The International Office is happy to help, but please note that our options are limited and you need to apply for the visa yourself.
Visa timeline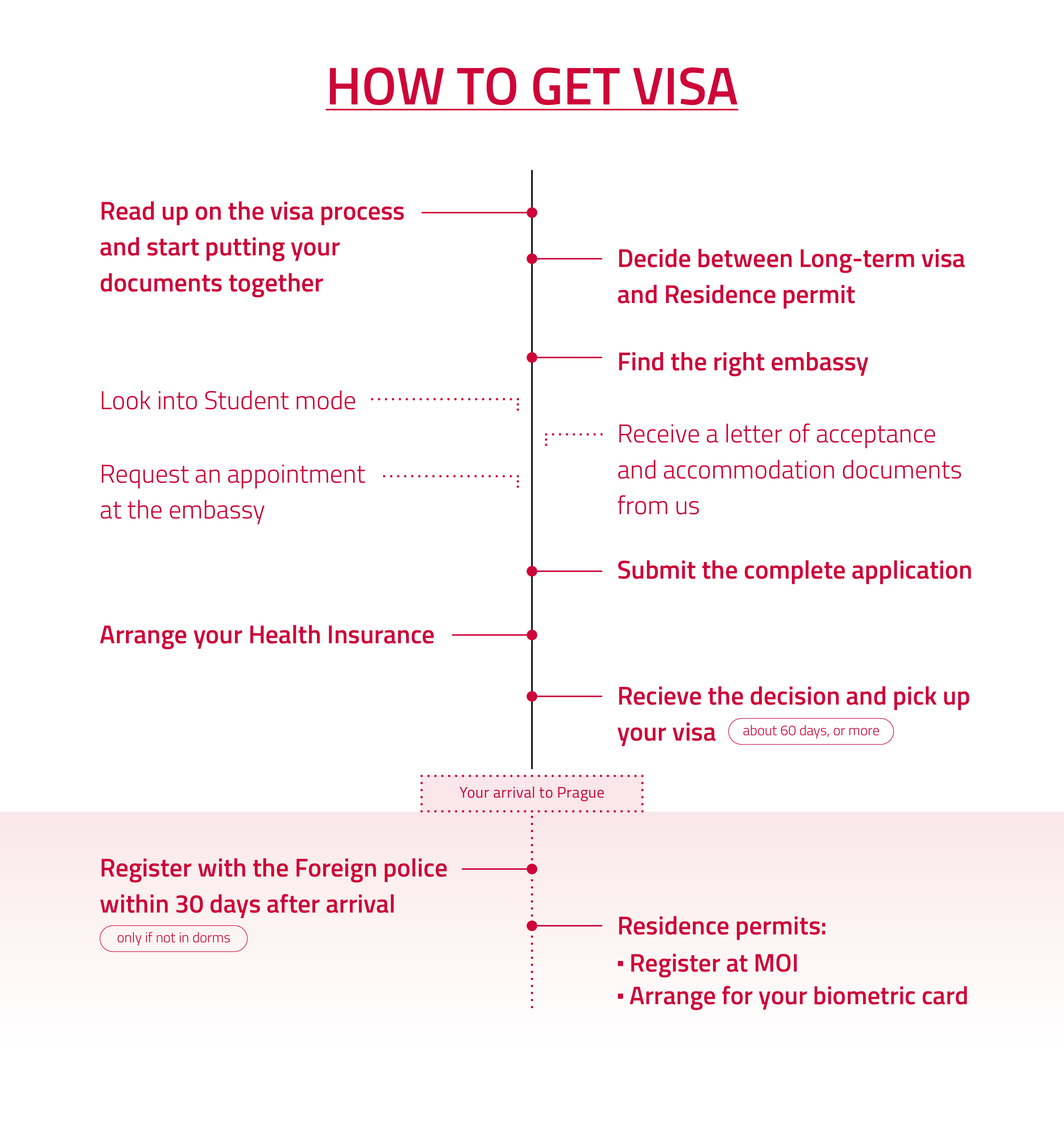 STEP 1: MAKE SURE TO START WORKING ON YOUR APPLICATION AS SOON AS POSSIBLE
Processing time is often as much as 8-10 weeks, so make sure you apply sufficiently in advance. Additionally, consider that the Consulate may have a lot of applicants to go through and therefore it may take time to get the initial appointment. Finally, it is always good to leave some extra time for potential issues that may have to be mended.
All students from non-EU or non-EFTA countries who wish to stay in Czechia for more than 90 days will continue to need a student visa/residence permit.
This includes students from EU candidate countries, and from countries whose citizens do not need a visa in order to enter Czechia as a tourist (e.g. the USA). In most cases, it will also include foreign nationals who are currently resident in another EU country.
STEP 2: DECIDE BETWEEN A STUDENT VISA AND RESIDENCE PERMIT
There are two possible types of visa students may obtain:
a classic Student Visa (Long-stay Visa for the Purpose of Study; "Dlouhodobé vízum za účelem studia") valid initially for maximum 1 year
a Long-term Residence Permit for the Purpose of Study ("Povolení k dlouhodobému pobytu za účelem studia"), which is valid initially for 1 year. The applicant gets an entry visa to travel to CZE in order to pick up a biometric residency card.
Long-Term Visa vs. Residence Permit
Both the long-term visa and the long-term residence permit are issued when the stay on the territory of Czechia is expected to exceed 3 months. In general, the long-term visa is primarily intended for persons who expect to stay in Czechia for several months – for example, study program lasting several months etc. A long-term residence permit is primarily intended for persons who expect a longer stay in Czechia – for example, a study in a university program, employment etc.
LONG-TERM VISA

RESIDENCE PERMIT

Allows stay over 90 days

Allows stay over 90 days

Allows movement within Schengen area

Allows movement within Schengen area

Can't be extended from inside of CZE - extends into residence permit

Can be extended from inside of CZE

Initially valid for max 1 year

Initially valid for 1 year

Purpose: health, culture, sport, study, scientific research, family, entrepreneurship and other

Purpose: employment (employment card or blue card),
study, scientific research, and family unification

Multiple visas for maximum of 1 year

One-entry visa for collecting the residence permit card

 

After: easy to obtain bridging visa, employment card or blue card
STEP 3: FIND A VISA ISSUING CONSULATE CLOSE TO YOU
Applications must be submitted to the Czech Embassy or Consulate in the student's country of origin (or a nearby country) before their departure for Prague.
Not all the Consulates can issue a visa. Please make sure that you choose the Consulate that can, before you apply.
Overview of Member States' diplomatic missions and consular posts responsible for processing visa applications and representation arrangements: 
NOTE: It is not possible to apply for a visa/residence permit on the territory of Czechia, or even to pick up a visa/residence permit you have previously applied for.
The Faculty of Social Sciences cannot and will not register students from non-EU/non-EFTA countries who do not have a student visa/residence permit, even if they are able to enter the country without a visa as a tourist.
STEP 4: REQUEST AN APPOINTMENT AT THE CONSULATE
Read the website of your specific Consulate to find out how to set an appointment. During the appointment, you will submit your application. Therefore, make sure to have all your documents collected and ready when you attend the appointment.
Some countries enable the applicants to be entered in a "Student mode", which should speed up the process and prioritize the student's appointment. You can find out if your country allows this here. If yes, email us at degreeprograms@fsv.cuni.cz and we will enter you in the student mode.
STEP 5: RECEIVE THE CONFIRMATION DOCUMENTS FROM THE FACULTY AND COMPLETE YOUR APPLICATION
What you will need to apply for a student visa or residence permit:
Note: All documents (with the exception of travel documents, registry data, and photographs) must be no more than 180 days old, and all foreign-language documents must be translated into Czech and the translation notarized. 
Completed Application Form. Forms are available at every Czech embassy/consulate, and in pdf on the websites of the Czech Ministry of Foreign Affairs: long-stay visa, residence permit
A valid travel document, generally your passport, with the date of expiry extending at least three months beyond the date of your projected departure from Czechia
A document confirming the purpose of your stay in Czechia (Letter of acceptance supplied by the Faculty of Social Sciences)
A document containing the specific address where you will be living in Czechia (supplied by the Faculty of Social Sciences)
Evidence of financial support. For further details, please visit the Ministry of the Interior website.
Evidence of health insurance*, valid for Czechia and providing minimum cover of 60 000 EUR for one insurance event. As of August 2, 2021, you are obliged to contract comprehensive insurance with Pojišťovna VZP, which is currently the only recognized insurance company for this purpose. See below the detailed conditions of this new obligation. In most cases, the consulate will not require health insurance to be finalised at the time of your initial visa/residence permit application, but they will insist you have valid insurance before they affix the visa/residence permit in your passport. The following documents will be required: insurance agreement, including details of the insurance that has been arranged (either as part of the basic insurance agreement, or as a separate document), plus proof that the insurance has been paid (your receipt).  All insurance documents must be in Czech or accompanied by a Czech translation.
2 passport photographs
A confirmation from the authorities in your home country that you do not have a criminal record, including a Czech translation. In addition, if you have resided in a third country for a continuous period of more than six months at any time within the last three years, you will also be required to provide evidence regarding your lack of a criminal record from this third country.
STEP 6: ARRANGE YOUR HEALTH INSURANCE
Read more about health insurance here.
Important note: because your initial visa will be issued only for a maximum of 6 months, we recommend you buy health insurance only for this 6-month period. Different insurance documents will be required for your visa renewal. 
STEP 7: RECEIVE THE DECISION AND PICK UP YOUR VISA
After 60-90 days, you should receive the decision and be asked to pick up your visa at the Consulate where you applied. In case there is any issue or discrepancy in your visa, you will be asked to mend it.
STEP 8: REGISTER WITH THE FOREIGN POLICE
You are legally obliged to register with the Prague office of the Czech Immigration Police within 3 days of your arrival.
If you are staying in the dorms, you don't have to register yourselves; the dormitory office will do it for you.
Here's more information about the Foreign Police.
RESIDENCE PERMIT ONLY: GO TO THE MOI AND ARRANGE FOR YOUR BIOMETRIC ID CARD
If a long-term residence permit is granted, students will have to register for residence cards detailing their residency status and carrying biometric data (face depiction and fingerprints). Students will have to
1) set an appointment at one of the branches of the Ministry of the Interior within thirty days of arrival
Note: The appointment itself must take place in 30 days after arrival (not just the appointment request). Therefore, please set the appoinment ASAP when you come in Prague. The waiting time can get long.  
2) provide biometric data at MOI
3) when the card is ready for pick up, you will be asked to come to collect it.
There is a fee for issuing the residency card. You can read more about the fee and the biometric data here.
The validity of the long-term residence permit can be repeatedly extended, but no longer than by 2 years.
MOI OPENING HOURS
On this website, you can find the available MOI offices in Prague including their opening hours and reservation portals to make an appointment. 
Prior telephone reservation is necessary in order to get an appointment (+420 974 820 680). You can also email to pobyty.hladkov@mvcr.cz.
NOTE: Do not forget to collect your residence card within the 60 day window. If you leave Czechia again without collecting the card, you will not be allowed re-entry and will have to apply for new visa.