PUBLIC TRANSPORT IN PRAGUE
PUBLIC TRANSPORT IN PRAGUE
Public Transport
Prague has one of the best public transportation systems in Europe. The metro, trams, and buses are used by two-thirds of Prague's population and cover the majority of the city and outskirts. With its night timetable, public transportation is available 24/7.
Tickets and Travel Passes
Tickets are available from many newsstands, ticket offices in the metro, and from automatic machines in the metro and at selected bus and tram stops. 
Travel passes with student discounts are available for students under the age of 26. Students 26 or over have to pay full price, regardless of their student status. Thanks to an agreement between Charles University and the Prague Public Transit Company, the university's electronic ID card can now also be used as a student ID for purchasing cut-price student travel passes. Students can simply take the ID card you will be issued at registration to the ticket office at any of the major Metro stations, and make your purchase. However, students might have to wait 24 hours after their card is issued to allow the data transfer.
For more information about tickets and prices please visit the Prague Public Transit website.
Ticket Inspection                                 
Ticket officers - (often accompanied by policemen) travel widely around the transport system and frequently ask passengers to show their tickets or passes. Passengers who are traveling without a valid pass or ticket are subject to a fine, which must be paid on the spot (especially in the case of foreigners). All officers carry both a metal badge and a photo-ID card (průkaz), which are numbered. The number on the two forms of ID should be identical. Always insist on getting a receipt. This may help you if you want to receive part of the money back (e.g. due to having a valid travel pass you have forgotten at home).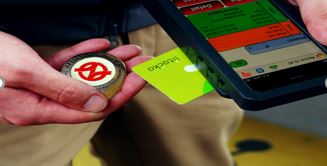 IMPORTANT: After you have obtained a travel pass (plus valid coupons for the selected period of time) you cannot be fined at the full rate (in Prague) even if you forget your pass at home. In this case, please, note that you have to inform the ticket inspector and pay a lower fine at the central office of the transport's agency. In Prague, this agency is called Dopravní podnik and the address of its office is Na Bojišti 5 (5 minutes walk from metro station I. P. Pavlova).
Timetable and Connections
You can find your connection in Prague here
To find your bus or train connections inside the Czech Republic please visit IDOS (switch to English/German in the right bottom corner).
For further information on public transport in Prague (fares, list of routes, and timetables), visit Prague Public Transit Co. Inc, where you can find comprehensive information in English.