Professor Marek Nekula received an honorary doctorate from Charles University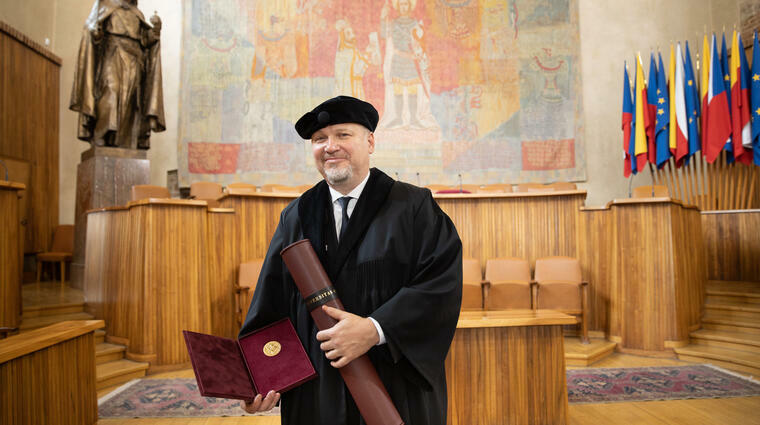 Professor Marek Nekula received an honorary doctorate from Charles University
On Wednesday 22 September 2021, the awarding of honorary doctorates of Charles University took place in the Karolinum Auditorium. Linguist, head of the Centre for Czech Studies BOHEMICUM and professor of the Institute of Slavic Languages and Literatures at the University of Regensburg Marek Nekula received the degree of doctor honoris causa in the modern history field of study.
Laudatio written by prof. Jaroslav Kučera was read by the Dean of the Faculty of Social Sciences doc. Alice Němcová Tejkalová: "As Marek Nekula himself once put it, his academic home is linguistics. He studied Czech and German studies and a certain amphibiousness characterized his scientific activity even further. (...) His interest was also attracted by the speakers of languages and the social, cultural and also linguistic environment in which they lived. Logically, he focused on the contact and intersection of the Czech and German linguistic space, for the analysis of which the Czech lands, at least until the middle of the 20th century, offered a wealth of study material."
He received the title for his outstanding scientific achievements and significant contribution to the development of research in collaboration with Charles University. "One of the reasons for awarding an honorary doctorate is the cooperation of the candidate with Charles University or other Czech institutions. In the case of Marek Nekula, this has been long-standing and extensive, as his appointment in Regensburg did not weaken his ties to the Czech environment. In the past twenty years, for example, he has been, or still is, a member of the scientific council of Masaryk University, the Faculty of Arts of Charles University, or the evaluation committee of the Academy of Sciences of the Czech Republic for philological institutes. It is rather a coincidence that he has maintained particularly intensive relations with the Faculty of Social Sciences in recent years. Their axis is the joint bachelor's degree programme in Czech-German Studies, of which Marek Nekula is the spiritual father and to this day also the head on the German side," said the Dean.