Professor Lenka Rovná was awarded Gold Medal of Charles University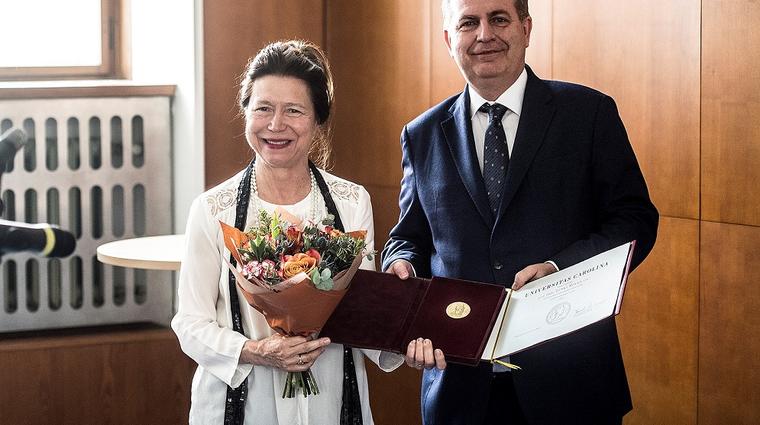 Professor Lenka Rovná was awarded Gold Medal of Charles University
Professor Lenka Rovná from the Institute of International Studies of the Faculty of Social Sciences of Charles University received from the Rector the Gold Medal of Charles University for the development of the internationalization of Charles University and the development of the Faculty of Social Sciences of Charles University. On the occasion of the meeting of the Research Board of Charles University, a total of fifteen personalities were awarded who, with their scientific and teaching work, indelibly entered the history of the university, and thus contributed to the spread of its good name.
"I am pleased that over the last six months the university leadership has complied with my proposals for the award of three important women who contributed to our faculty and made it as it is: open, developing current knowledge and internationalized," said Dean Alice Němcová Tejkalová, adding: "At the same time, I believe that their enthusiasm for the field as well as for serving the public and the academic community will be inspiring for future generations of their successors."
Professor Rovná currently works as Vice-Rector for European Affairs and Professor at the Institute of International Studies, Faculty of Social Sciences, Charles University. At the university level, she contributes to the internationalization and development of Charles University - she is the head of the European Centre of Charles University and, last but not least, she is one of the important motivational forces of the prestigious international alliance 4EU+; she fundamentally contributed to its birth.
At the faculty level, Professor Rovná is a founding member of the Faculty of Social Sciences and the Institute of International Studies, where she stood at the birth of three of its departments - the Department of Russian and Eastern European Studies, the Department of American Studies and the Department of (Western) European Studies. She is a long-time member of the Research Board. She has significantly contributed to the involvement of the institute and the faculty in the international research community through significant projects, including the prestigious Jean Monnet Centre of Excellence. "I really appreciate the award, also because there are three great loves of my life: my grandchildren from Paris, Europe and my alma mater," said Professor Rovná when accepting the award.
The commemorative medal of Charles University is an award that can be given to members of the university's academic community, but also to people outside the academic community who have made a significant contribution to the development of the university, some of the faculties or the area of science, education and academic freedoms. The Rector decides whether or not to award a faculty medal. The university medal is awarded in two degrees (gold and silver); there is also a historical medal of the university and thematically focused commemorative medals.