Golden Courses for Winter Semester 2021/2022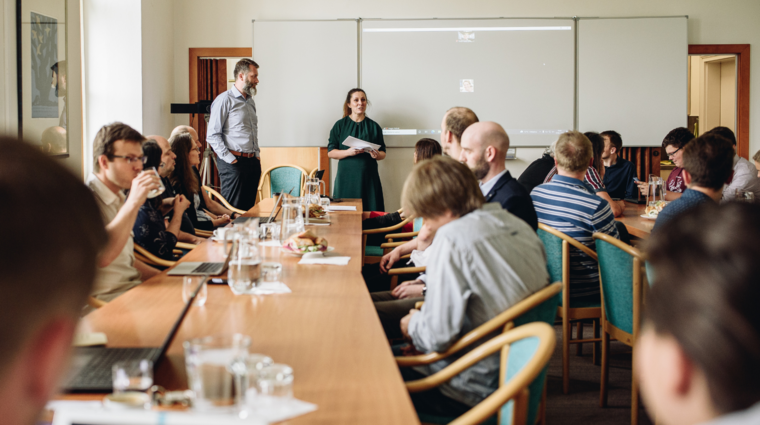 Golden Courses for Winter Semester 2021/2022
Golden Courses for the best courses of the Winter Semester 2021/2022 according to the student evaluation were awarded yesterday. Congratulations to all recipients!  
On Tuesday, 17 May 2022, during the Academic Senate FSV UK meeting, the Golden Courses were awarded to the lecturers. The award is accompanied by financial reward.  
Institute
Course code
Course name
Lecturer
Assistants
CJP
JLB029
Španělština odborná I
Mgr. Rocío Vila Falcón
 
IES
JEB028
Matematika III
doc. RNDr. Michal Johanis, Ph.D.
 
JEM217
Advanced Econometrics
doc. PhDr. Jozef Baruník, Ph.D.

Mgr. Lukáš Janásek

Mgr. Josef Kurka

Mgr. Lenka Nechvátalová

Ing. Alena Pavlova

IKSŽ
JKB105
Managing Multimedia Projects
Bc. Ondřej Juřík
 
 
JJM344
Political Economy of Communication
PhDr. Lenka Vochocová, Ph.D.
 
IMS
JTB210
Úvod do mezinárodního a evropského práva
prof. JUDr. PhDr. Ivo Šlosarčík, Ph.D., LL.M.
 
 
JTM023
European Union in International Affairs
doc. Mgr. Tomáš Weiss, M.A., Ph.D.
 
IPS
JPM923
Artificial Intelligence and Security
Mgr. Petr Špelda, Ph.D.
 
 
JPB242
Geografie vnitropolitických konfliktů

Mgr. Bohumil Doboš, Ph.D.

Mgr. Martin Riegl, Ph.D.

 
ISS
JSB537
Analýza dat v SPSS
PhDr. Ing. Petr Soukup, Ph.D.

Mgr. Tereza Svobodová
Kateřina Šafářová

 
JSM691
Policy Analysis

Mirna Jusić, M.A.

Mgr. Martin Nekola, Ph.D.