New publication: Paths out of the Apocalypse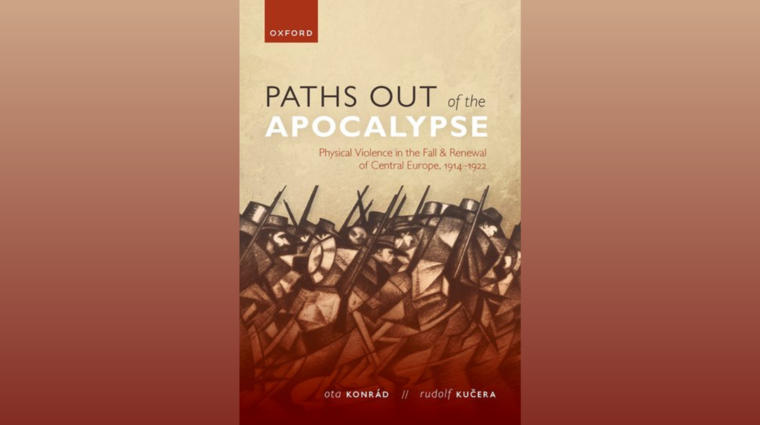 New publication: Paths out of the Apocalypse
"Paths out of the Apocalypse. Physical Violence in the Fall and Renewal of Central Europe, 1914-1922", the new book by Ota Konrád and Rudolf Kučera,  has been published by Oxford University Press.
Oxford University Press is one of the world's most prestigious global publishing houses, publishing mostly groundbreaking works with a high international impact. The book was published as part of the series "The Greater War", which brings together the currently most interesting monographs on the topic of the First World War and its global consequences.
Paths out of the Apocalypse uses violence as a prism through which to investigate the profound social, cultural, and political changes experienced by (post-) Habsburg Central Europe during and immediately after the Great War. It compares attitudes toward, and experiences and practices of, physical violence in the mostly Czech-speaking territories of Bohemia and Moravia, the German-speaking territories that would constitute the Republic of Austria after 1918, and the mostly German-speaking region of South Tyrol.
Based on research in national and local archives and copious secondary literature, the study argues that, in the context of total war, physical violence became a predominant means of conceptualizing and expressing social-political demands as well as a means of demarcating various notions of community and belonging. The authors apply an interdisciplinary understanding of violence informed by sociological and psychological theories as well as by rigorous empirical historiographical approach. First, they examine the most severe kind of physical violence - murder - against the backdrop of shifting scientific and media discourses during the war and its immediate aftermath. Second, the authors use numerous cases of collective violence, ranging from less serious everyday conflicts to massive hunger demonstrations and riots, to unravel its 'language', thus deciphering the attitudes and values shared among an ever-growing group of perpetrators. 
Paths out of the Apocalypse thus fundamentally rethinks some key topics currently debated in the scholarship on early twentieth-century Central Europe, the First World War, violence, nationalism, and modern European comparative social and cultural history.