Infomore.cz won at AMEC Awards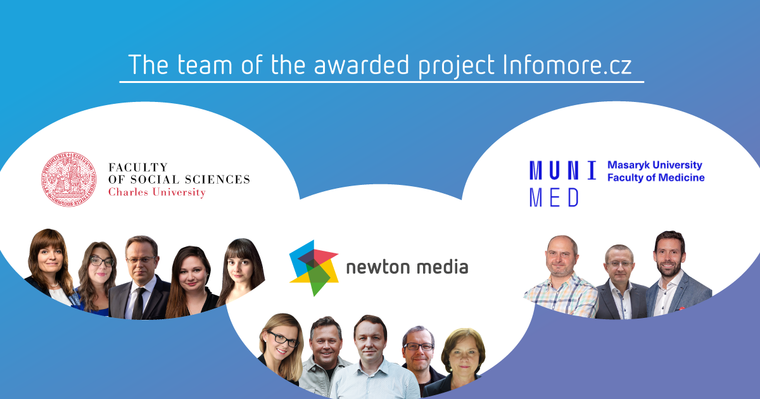 Infomore.cz won at AMEC Awards
Project Infomore.cz succeeded in the worldwide competition of media analysts AMEC Awards. It won in the category effective planning, research and evaluation of communication. Infomore.cz is a joint project of the Faculty of Social Sciences, Charles University, the Faculty of Medicine, Masaryk University in Brno and NEWTON Media.
The awarded project led by Václav Moravec, a teacher from IKSŽ FSV UK, seeks to reduce the so-called infodemie - phenomenon of excessive dissemination of inaccurate, misleading or false news. The project points out the bad journalistic work with data, wrong use of medical terminology or inappropriate examples and comparisons.
"When this website was created a year ago as one of the main outputs of our interdisciplinary project, I had no idea how interested the professional public would be, including the prestigious AMEC Awards 2021," says Václav Moravec.
The NEWTON Media team contributes to the project through analysis of classic and social media. It monitors what news about coronavirus appear in the media, detects irregularities or misinformation and maps their spread through the Czech media space. "The covid-19 pandemic is an absolutely unprecedented task for the media and journalists, but also a responsibility. The Infomore.cz website has proven to be an excellent helper which, thanks to the work of our analysts and other experts and the use of state-of-the-art technologies such as artificial intelligence, helps to meet this challenge," says Petr Herian, founder and owner of NEWTON Media.