The FSV UK Dean's address on the occasion of the Struggle for Freedom and Democracy Day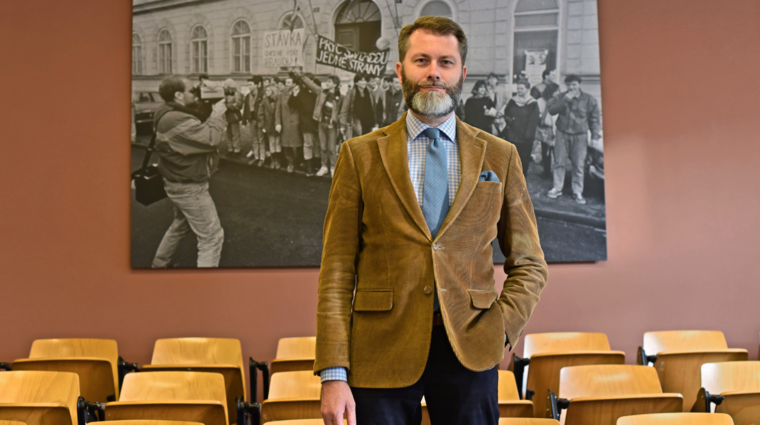 The FSV UK Dean's address on the occasion of the Struggle for Freedom and Democracy Day
Dear colleagues,
On November 17, the modern democratic statehood in Czechia will be 33 years old. That is, the age in which dynamism and activeness should already be interwoven with life experience and mature prudence. Seen through this lens, the situation does not look the best. Czech society, like the societies of many other developed and rich countries, is significantly divided, at least at the political level. It is, moreover, divided in a way where one side of the political spectrum is dominated by parties whose commitment to democratic values ​​is more or less questionable. It is as if the political offer has narrowed down to a choice between the increasingly limited political mainstream and the populism of the opposition.
In addition, after several challenging years of managing the coronavirus pandemic, we were thrown into a new systemic shock in February, when Putin's Russia brutally violated the basic norms of international coexistence and launched frontal aggression against Ukraine. We can also add to the list of urgent challenges the increasingly evident negative effects of the behaviour of human societies on nature and the environment. More than thirty years after the November Revolution, which, in addition to freedom, emphasized tolerance as one of the key values, attacks on members of minorities, whether in the context of anti-immigration rhetoric or in the case of sexual minorities, are extremely disturbing and condemnable.
Freedom, for which my parents also went on strike in November and December 1989, cannot be separated from responsibility for our behaviour and its consequences. The option to behave irresponsibly is part of free choice, but it is not a long-term sustainable option. In the same way, freedom cannot exist without the necessary level of security, from physical security and respect for all regardless of opinion, belief, or identity, to elementary level of social and economic security, to defence against external threats.
All these, and much more, are the challenges that Czech society faces 33 years after November 17, 1989. Amid the uncertainties we face, we as students and employees of FSV UK have a unique advantage: belonging to a community of educated, gifted and bright people who have the potential to systematically contribute to the improvement of the situation in Czechia. I know that you use this advantage and responsibility as members of the FSV UK academic community in many ways, and I am proud of everyone involved in this effort. The faculty is ready to do its best to support you in these activities. I have my fingers crossed for all of us and wish you a lot of energy, strength, and success in the coming period.
PhDr. JUDr. Tomáš Karásek, Ph.D.