Academics from IES FSV UK received the Bedřich Hrozný Prize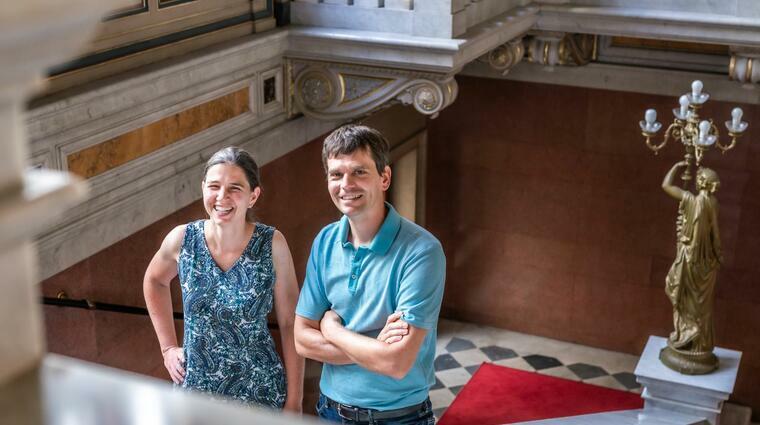 Academics from IES FSV UK received the Bedřich Hrozný Prize
The Bedřich Hrozný Prize for Creative Initiative is awarded by the rector of the Charles University for a significant and original creative initiative such as a specialist paper published in a journal or book, a work of art, the staging of an exhibition, realising a patent, etc. The Prize may be awarded to a staff member or a team working at the University.
Doc. PhDr. Michal Bauer, Ph.D. and doc. PhDr. Julie Chytilová, Ph.D. from the Institute of Economic Studies received this prize for a publication in the Nature journal. Their article Communicating doctors' consensus persistently increases COVID-19 vaccinations researches Czech doctors' trust in vaccines against covid-19 and is the first social science study in one of the most prestigious scientific journals. You can read an interview with the authors of the article in the university magazine UK Forum.
Awarded for 2022:
| | | |
| --- | --- | --- |
| CERGE-EI + FSV UK | doc. PhDr. Michal Bauer, Ph.D., doc. PhDr. Julie Chytilová, Ph.D. | publication in the Nature journal |
| Faculty of Arts UK  | doc. Richard Biegel | monograph City in the Storm – Urban planning and architecture of the historic center of Prague 1830-1970 |
| Faculty of Science UK |   | A set of three articles forming a monograph "Diversity and Taxonomy of Food and Indoor Aspergillus" (132 pages) in the Studies in Mycology journal (impact factor 25,731) |
| Third Faculty of Medicine UK | doc. MUDr. Ing. Karol Čurila, Ph.D. | research and patent of Ultra-high-frequency ECG |
The awards will be presented at a gala gathering held on the occasion of the university's founding anniversary in April.
Congratulations to all awarded!
Photo: Jana Plavec