Exchange and Visiting Students
UPDATE COVID-19 situation
From Monday 16th March to Saturday 11th April 2020 the government restricted the movement of persons throughout the Czech Republic. Please stay at your homes and limit contact with others to the necessary extent. The food stores, drug stores, and pharmacies are opened. Moreover, we are all obliged to cover your nose and mouth anytime you are in the public space. 
As of Monday 16th March, if you leave the Czech Republic, you will not be allowed to enter the country until further notice, unless you are: 1) Czech citizens OR 2) other nationals with a permanent or temporary residence permit in the Czech Republic.
On March 12th, 2020, at 2 pm the Czech Republic declared State of Emergency over the fast-spreading new Coronavirus / COVID-19 disease for 30 days.
Travel information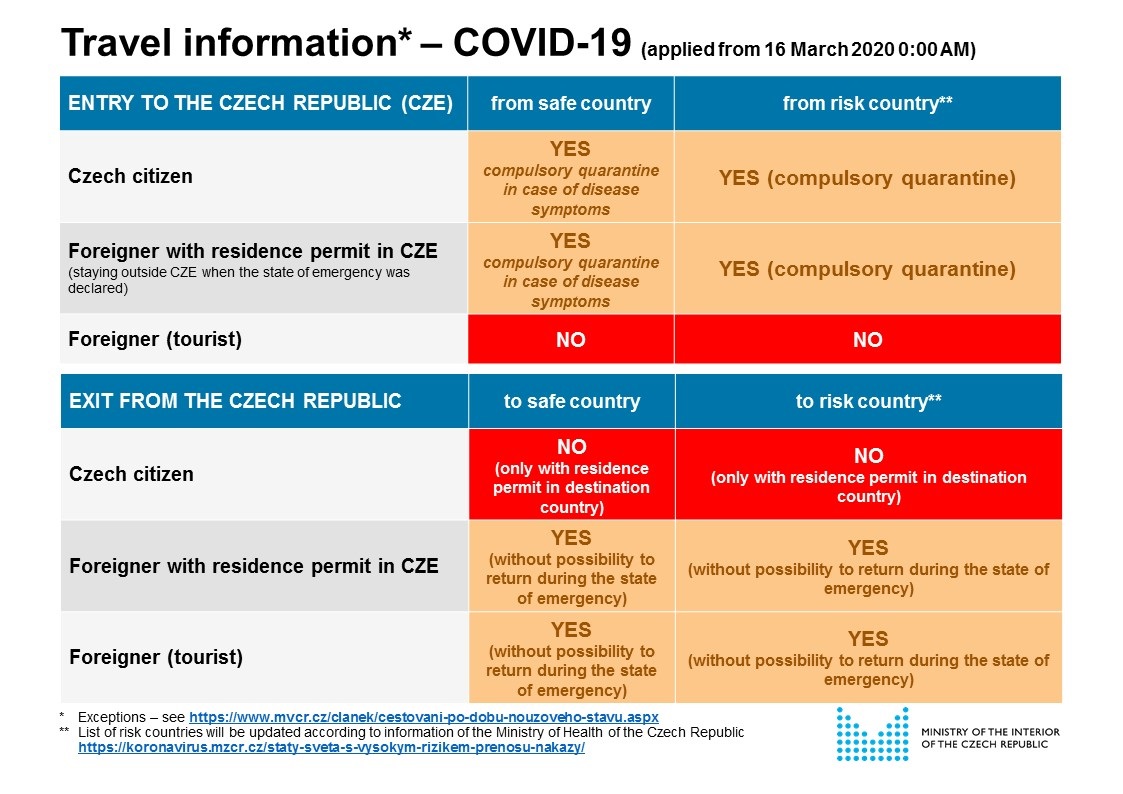 The following countries were declared as unsafe/critical due to the high number of people infected by the new Coronavirus (13.03.2020) and Czech citizens or nationals with permanent or temporary residency will have to stay in 14-days quarantine:
Austria, Belgium, Danemark, France, Germany, Great Britain, Italy, Norway, Spain, Sweden, Switzerland, The Netherlands
China, Iran, Korea
Please check the following link from the Ministery of Interior.
/ 13. 3. 2020 /
Important information
We recommend all students to discuss the next steps with their home university coordinators.
1.If you wish to stay in the Czech Republic
Please do not travel at all during the state of emergency.
Please follow the courses online. The e-learning will be launched during the next weeks.
Stay safe. Stay home. No gatherings over 30 people are allowed – it's a CRIME OFFENSE.
If you already left the Czech Republic, please follow the online courses and once the state of emergency is cancelled, return to Prague to complete the semester. 
2. If you wish to return home and cancel your mobility, contact your home university coordinators and inform us via email:
Erasmus students: incoming@fsv.cuni.cz
Inter-faculty, Inter-government, ICM etc.: exchange@fsv.cuni.cz. 
 You should be able to apply so-called "Force majeure" or "Act of God" to terminate your study stay abroad earlier than expected.